Bank Of Collective Memory, 2014
---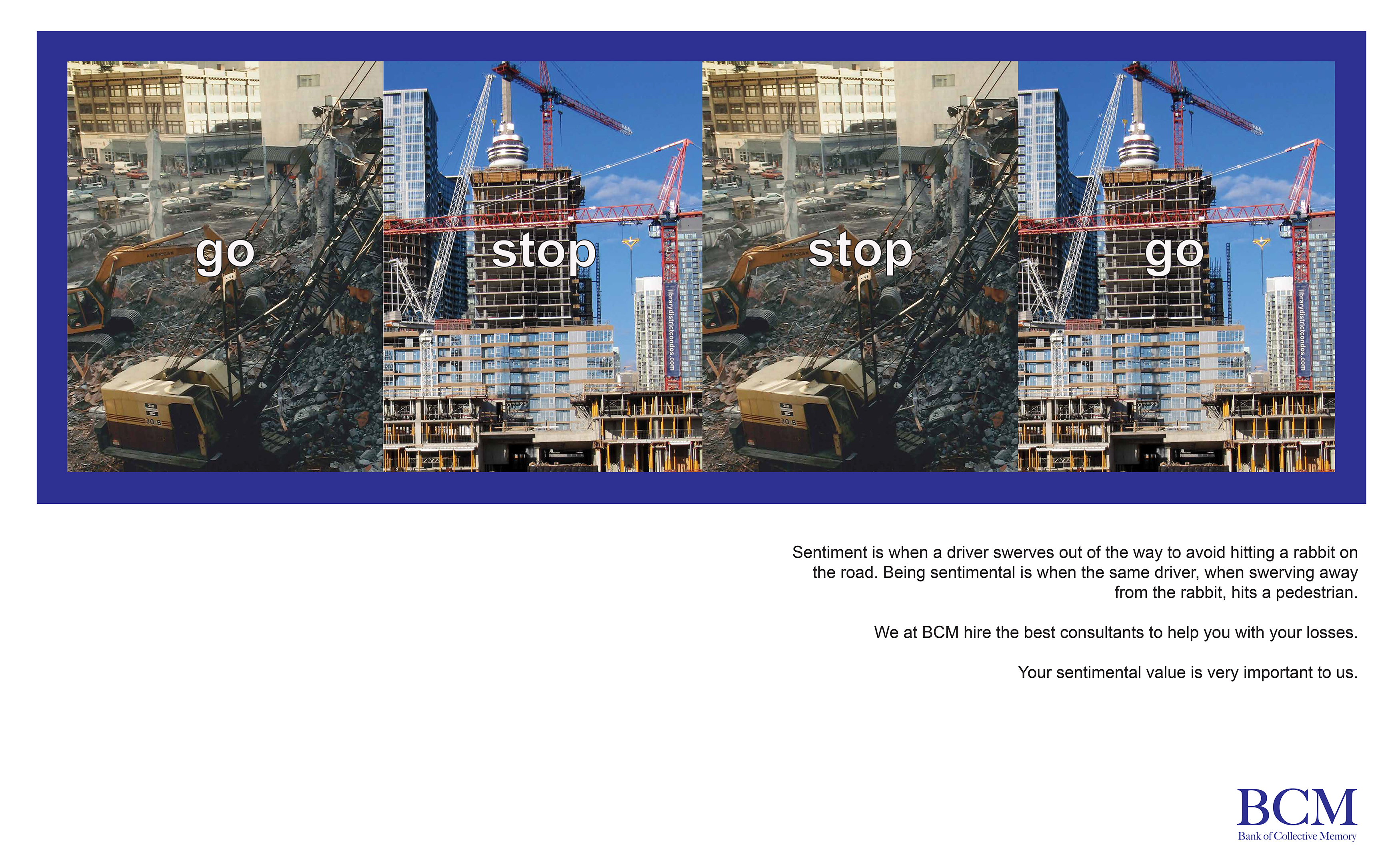 poster in light box, online project
Abstract - English

---
Group Exhibition
︎︎︎ Signs of Life: In and out of space, curated by Sara Reisman, Pierogi Gallery, New York

British historian Eric Hobsbawm argues that many traditions which "appear or claim to be old are often quite recent in origin and sometimes invented." This phenomenon is particularly clear in the modern development of the nation and of nationalism, creating a national identity that promotes national unity and legitimises certain institutions or cultural practices. By appropriating words and visuals that corporations use to effectively persuade, or at least, transmit the feelings and ideas markets want to associate with a product or service, the Bank of Collective Memory serves to benefit from their customer's sentimental value.

From the demolition of heritage and historic buildings to the appropriation of foreign sources, the nation confuses its community's understanding of its self, leading to detrimentally nostalgic reactions, particularly when those imported cultures are later replaced by new ones. This curious but understandable paradox can be monetised and exploited on by corporations hoping to milk on the loss of national authenticity. The Bank of Collective Memory serves as a capitalist vault that prospers, with interest, on the collective memories of its customers.



Arabic - ملخص

---

يقول المؤرخ البريطاني "إريك هوبزباوم" أن العديد من التقاليد التي "تبدو أو يُدّعى أنها قديمة هي في الكثير من الأحيان حديثة الأصل وأحياناً مبتكرة". وبدت هذه الظاهرة واضحة بالأخص في التطورات الحديثة للدولة والوطنية والتي خلقت هوية وطنية تعزز الوحدة الوطنية وتعطي الشرعية لبعض المعتقدات أو الممارسات الثقافية. عبر تخصيص الكلمات والصور التي تستخدمها الشركات في الإقناع الفعّال، أو على الأقل في نقل المشاعر والأفكار التي تريد الأسواق ربطها بمنتجات أو خدمات معينة بفعالية، تستغل الشركات بنك الذاكرة الجماعية للاستفادة من القيمة العاطفية للزبائن

بدءاً من هدم المباني التراثية والتاريخية إلى تخصيص المصادر الأجنبية، تشوّش الدولة فهم المجتمع لذاته مؤدية إلى ردود فعل مليئة بالحنين المؤذي ولا سيما عند استبدال تلك الثقافات المستوردة بثقافات جديدة. ويمكن للشركات التي تريد استغلال فقدان الأصالة الوطنية الاستفادة من هذه المفارقة الغريبة والمفهومة، فيصبح بنك الذاكرة الجماعية بمثابة خزنة رأسمالية تزدهر بالفائدة من خلال ذاكرة الزبائن الجماعية